SUPER BENEFITS
The definition of nutrient density. Protein, antioxidants, essential fatty acids and no added sugar—plus a mix of vitamins and minerals—make Navitas Power Snacks powerful additions to your every day.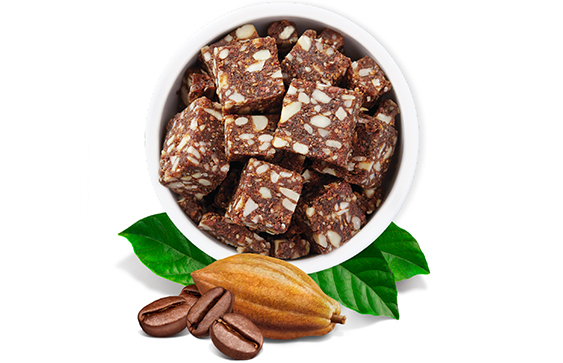 • EAT STRAIGHT FROM THE BAG
• TOP YOGURT AND SALADS
WHY YOU'LL LOVE POWER SNACKS
Mighty tasty and supremely portable, our hardest-working superfoods give you the balanced protein and nutrients you need to power through your day.

Each variety of Navitas Organics Power Snacks are minimally processed and chock-full of our signature superfoods—including Maca, Chia, Lucuma and Camu—for a well-rounded, energizing snack that delivers lasting fullness. Round that out with some of nature's finest seeds and nuts, including sesame seeds, pumpkin seeds, cashews, almonds and sunflower seeds, and it makes these the snacks that you'll reach for time and time again.

Naturally sweetened with dates containing no added sugar, Navitas Organics Power Snacks are an excellent whole-foods snack for kids and adults of all ages, and are available in four varieties:
BLUEBERRY HEMP
Navitas Organics Blueberry Hemp Power Snacks bring together two of North America's most beloved superfoods: blueberries and Hemp. The protein-rich Hemp Seeds and the antioxidant power of blueberries will work together to keep you going strong.
CACAO GOJI
Boost up with our satisfyingly sweet Cacao Goji Power Snacks, which combine the antioxidant power of Goji Berries with mineral-rich Cacao—which is also one of the most nutritionally complex foods on the planet!
CITRUS CHIA
Protein-rich Chia Seeds, Maca Powder, Camu Powder and Cashews come together to create a truly delicious snack. Enjoy Navitas Organics Citrus Chia Power Snacks straight out of the bag or crumble them into yogurt, ice cream, cereal—even smoothies.
COFFEE CACAO
Looking for a caffeine boost or simply love the taste of coffee? Reach for Navitas Organics Coffee Cacao Power Snacks, which bring together Cacao, Maca, Chia, Cashews and Camu to create a truly delicious snack that will give you a jolt of energy and nutrition at the same time.
HOW TO USE
Navitas Organics Power Snacks are ideal grab-and-go snacks for your cupboard, glove box, office, purse or pocket. They're equally well-suited for rewarding your tastebuds, fortifying any regular Wednesday or fueling performance-based activities. Gluten-free, dairy-free, soy-free, peanut-free and free of refined sugars, they're excellent for kids' lunches and snacks.

Crumble them onto yogurt, cereal and ice cream. Power up a salad by sprinkling them in or boost your favorite dessert by topping it off with a few bite-sized nuggets. Or, of course, enjoy them right out of the bag!